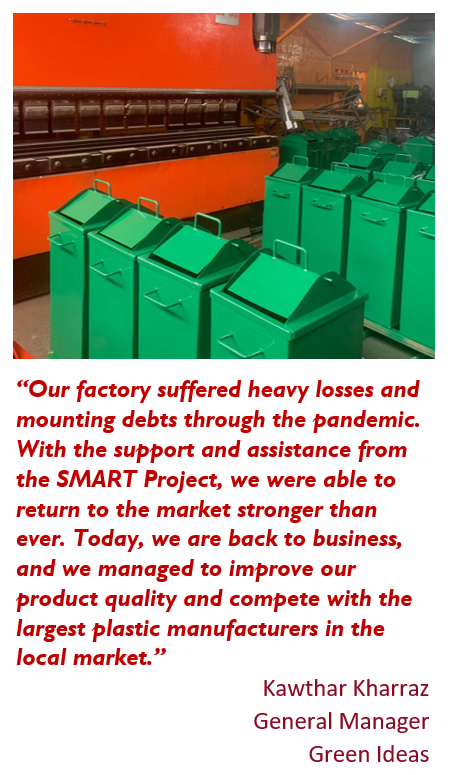 After the pandemic closures brought their recycling operations to a grinding halt, the SMART Project partnered with women-owned factory Green Ideas to help them get back to business, greener than ever. The SME's cost-shared Recovery Plan, completed in February of 2023, not only helped the firm recover revenues and employment following 18-month closure, it also advanced a critical component of the circular economy for plastics and metals in the West Bank.
Ms. Kawthar Kharraz and her husband, Mr. Mohammad Kharraz, founded Green Ideas Company in 2016 as an innovative recycling and manufacturing facility, based in the Baqa Al Sharqia industrial zone, in the governorate of Tulkarem. As owners and managers, Kawthar and her husband started the business to collect plastic and metal waste materials from their community to produce waste collection receptacles, which can in turn collect more recyclable waste in their community. Kawthar collaborated effectively with public sector stakeholders—municipalities and local councils—in raising public awareness of waste separation best practices.
The factory has two production lines for converting waste into raw material for manufacturing: one for plastic and one for metal. The plastic production line processes Polypropylene Plastic (PP) and High-Density Polyethylene (HDPE) waste by first crushing materials into small chunks and then pelletizing into fine granules that can be used to mold new plastic products. The metal production line processes iron metal waste by first cutting the metal into manageable pieces and then bending the pieces into forms for further production.
COVID-19 lockdowns caused frequent stoppage and lapsed maintenance of the machines for crushing and pelletizing plastic as well as the machines for cutting and bending metal. The pelletizer was damaged beyond repair, as it must run continuously to avoid clogging with hardened residue. The plastic crusher degraded to 30% efficiency and all efforts to salvage the machine failed. Likewise, the corrosion of components of the metal cutting and bending machines in the idle period led to irreparable damage.
Despite these challenges, Kawthar reopened her business after an 18-month closure. Green Ideas continued to produce waste bins for their clients and community, but outsourcing the waste recycling processes brought additional costs. In July of 2022, the SMART Project agreed to assist this firm with a cost-shared Recovery Plan. While the firm invested in repairing what they could, the SMART Project procured replacements for the equipment that could not be repaired. SMART also contributed to the cost of safety and maintenance training for equipment operators. Kawthar remarked, "The grant helped us speed up the recovery process. A new line for iron recycling opened new markets for us, and we hired the labor force as in the past." As of June 2023, Kawthar is employing 34 fulltime staff, 29 men and 5 women. This includes eight new employees hired and trained in the past six months.
Now this pioneering company is back to business and more competitive than ever. In addition to their waste receptacle production line, the recycling machines that SMART helped to fund have enabled the firm to enter new business relationships as a supplier of raw materials—granulated plastic and processed metal—to two local manufacturers. Revenue in Quarters 2 and 3 of 2023 was double that of the same period in 2021 and included the first exports since reopening.
On June 5th, 2023, the SMART Project marked World Environment Day by acknowledging Green Ideas and two other Tulkarem-based recycling facilities and launching a new firm level assistance to support Circular Economy solutions. Green Ideas is a prime example of the World Environment Day's theme: #BeatPlasticPollution. "Green Ideas' main objectives is to protect the environment," says Kawthar, "and we feel proud of ourselves that we work every day for this noble mission."