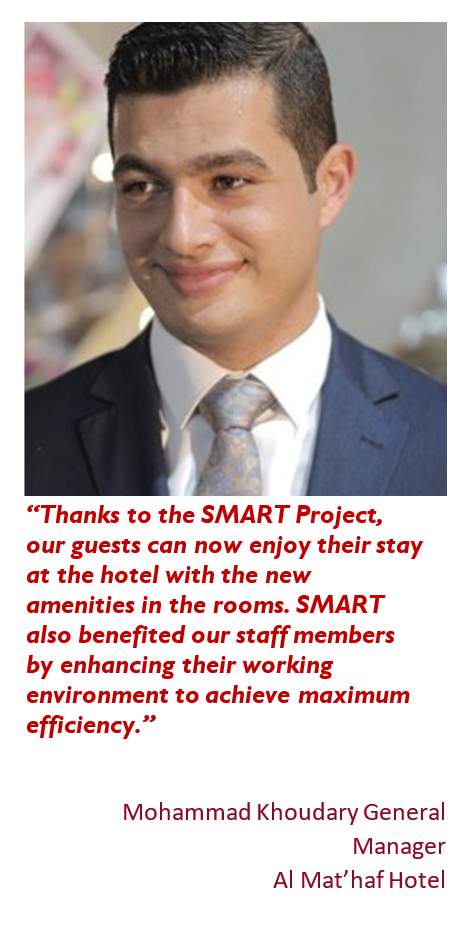 On a sunny hilltop overlooking the Mediterranean Sea, Al Mat'haf Hotel is a proud testament to Palestinian culture and heritage. The beautifully designed hotel welcomes guests from around the world and celebrates Gaza's local traditions as well as its archeological and cultural history. In addition to its 30 rooms and event space, the hotel boasts a beautiful garden and a small museum hall that features a selection of Palestinian antiquities. Furthermore, the hotel integrates clean energy and reusing waste into all operations. But when Al Mat'haf Hotel was struggling to recover from COVID-19, General Manager, Mohammad Khoudary, reached out to the SMART Project to leverage USAID support and redeem the hotel to its former glory.
The pandemic caused Al Mat'haf's revenue to drop by 45 percent in 2020. For six months in 2021, the hotel served its local community by providing a quarantine center for recovering COVID-19 patients. During the closure and quarantine period, the hotel's luxurious facilities deteriorated due to excessive use and lapsed maintenance. Upon reopening towards the end of 2021, the hotel struggled to recover its occupancy rates and revenue due to the poor state of its facilities. The hotel needed to make immediate investments to recover its former status as a premium provider of comfortable stays for guests and a beautiful venue for weddings and other events.
In November 2021, around the same time that Al Mat'haf was reopening, SMART launched the Tourism Rapid Recovery Program (TRRP), with supporting the recovery of Palestinian hotels as the Project's first priority. SMART awarded 31 cost shared Recovery Plans to Palestinian hotels, including four in the Gaza Strip. Al Mat'haf Hotel was among the first small and medium enterprises (SMEs) to benefit from the SMART Project as a client firm. The hotel's Recovery Plan focused on supporting the business's ongoing process of investing in the repair and replacement of critical equipment. This included repairs and maintenance to the hotel's backup generator as well as maintenance and painting work, all covered by the hotel's cost share. Utilizing SMART's cost share, the hotel also replaced a variety of furniture and appliances including air conditioning units, TVs, kitchen and laundry appliances, and other critical equipment.
Along with 19 other hotels, Al Mat'haf participated in a climate change training in September 2022. The training aimed to make a business case for climate change mitigation and provide hotel owners and managers with the knowledge and capacity to implement new business practices. For Al Mat'haf, this meant integrating clean energy and circular economy through the course of their Recovery Plan. This included investing in efficient equipment, repurposing food waste for animal feed, processing seafood waste to fertilize their gardens, and reusing plastic containers as planters.
Thanks to support from the SMART Project, the hotel is in the final stages of its Recovery Plan, having made a series of critical investments to improve the quality of their services and the environmental sustainability of their facilities. Over the course of this Recovery Plan, the hotel has hired nine new employees, increased occupancy by 70%, and increased revenue by 22%.