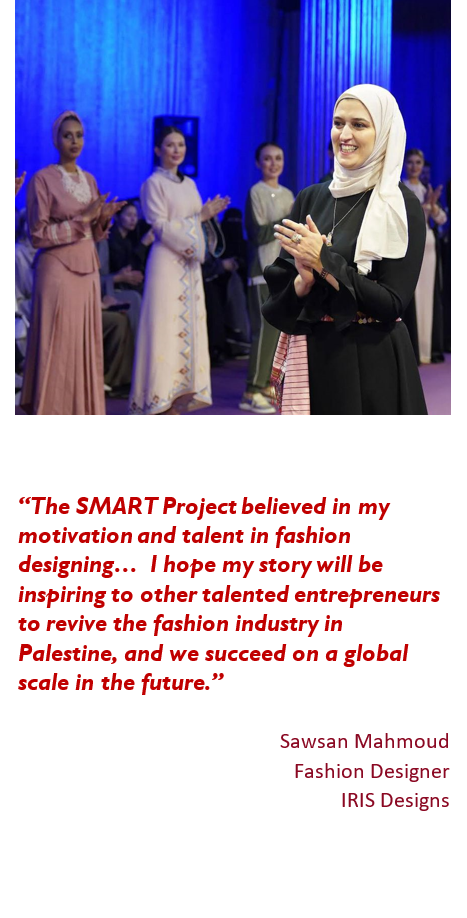 It takes courage and ambition to make a mid-career transition from engineering to fashion design. Sawsan decided to make this brave leap and turn her childhood passion for making clothes into an innovative business venture that fulfills a regional market demand for modest women's attire.
Sawsan founded her own business, IRIS Designs in 2019, based in Ramallah, West Bank. While other entrepreneurs might have been demoralized by COVID-19 lockdowns, Sawsan used the opportunity to develop the skills, both in product design and marketing, necessary to develop her brand. She saw the potential for entering regional markets with demand for her unique products.
USAID sees women-owned start-ups as engines for economic recovery and growth, which is why the SMART Project awarded Sawsan a cost-shared grant in 2022 as a part of its Private Sector Rapid Recovery Program. The partnership offered Sawsan the resources and assistance necessary to develop IRIS into a viable business. The SMART Project provided production equipment to design and create her clothing products, as well as marketing support for Sawsan to develop a cohesive branding strategy including a social media campaign, ecommerce platform, digital and printed catalogues, and a promotional video. Sawsan also attended business and design trainings in Europe.
The culmination of the partnership with SMART was an exclusive runway exhibition at Riyadh Modest Fashion Week in Saudi Arabia in December 2022. Industry stakeholders in the niche market for high-quality modest women's fashion gathered from around the world for the highly celebrated fashion show. As the only Palestinian designer participating, Sawsan stood out with her innovative products and smart branding. Her featured line, Women's Essence, combined the Palestinian tradition of vibrant embroidery with her own touch of geometric patterns inspired by her engineering background. Seven international news media outlets reported on Sawsan's runway debut, including an article by Vogue Business that quoted Sawsan directly and featured a photo of her product.
The media attention and connections with influencers and industry stakeholders have helped Sawsan to establish a foothold in a competitive international industry. Already, her sales have more than doubled by expanding her market in Jordan. As a proud Palestinian, Sawsan is grateful for the opportunity to represent her culture on an international stage. She remarked, "It's very important to me that we, Palestinians, make our own clothes to set our terms in fashion trends that respect our values and fulfill our needs. Local brands allow our communities to celebrate our culture."